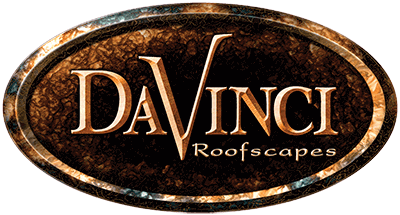 DaVinci Roofscapes' composite polymer tiles are a modern alternative to wood shake and natural slate. Innovative systems, DaVinci's roof tiles are designed to provide superior resistance against the most extreme climates. Constructed of thermally stabilizing and flame retardant polymer, DaVinci's roof tiles are UV resistant for extra defense against cracking and warping. High Texas heat, severe storms, and high winds are no match against the quality of DaVinci's composite shake or slate products.
Cedar shakes have been a popular roofing material for almost as long as humans have been building. It's aromatic, rigid, and renowned for its rich color. But cedar shake comes with eventual the rotting, curling, and splintering characteristic of wood. DaVinci's lines of shake tiles are patterned with the allure of high-quality cedarwood while offering the longevity of polymer.
Early in its history, natural slate was only used by the wealthy as it was expensive and tedious to install. Today, the stately appeal of slate is readily available for any home. While slate is more accessible these days, its weight and porosity can limit a homeowner's use. DaVinci's lines of slate inspired roof tiles offer a regal, lightweight, and sturdy alternative to traditional slate.
Resilient, low-maintenance, and true to life. DaVinci Roofscapes carries six styles of composite polymer tiles and two decades of exceptional roofing performance.